Barbershop
The most renowned and established barber shop in Glyfada, offers luxurious hair and grooming services for men and boys of all ages, staying true to the latest fashion trends.
Our private space is exclusively designed to cater to the needs of men who appreciate the motto "men's grooming." Within a meticulously crafted environment, you'll enjoy a unique experience that combines tradition, luxury, and high-quality services.
Whether you desire a haircut, a shave, nail care, or specialized techniques for hair color and quality, our highly experienced staff is here to listen to your preferences and recommend grooming methods for your hair and beard, utilizing the market's best hair and grooming products.
At our barber shop, we prioritize the satisfaction of our clients. Our team's extensive experience and mastery of advanced techniques ensure that you receive top-notch care for your hair and grooming needs. We provide expert advice on hair maintenance, styling, and grooming routines tailored to your specific requirements.
Feel free to consult us online for a complimentary assessment of your hair's specific needs. By filling out our Hair Profile form, we can offer personalized recommendations for your hair care routine and suggest suitable products to enhance the health and appearance of your hair and beard.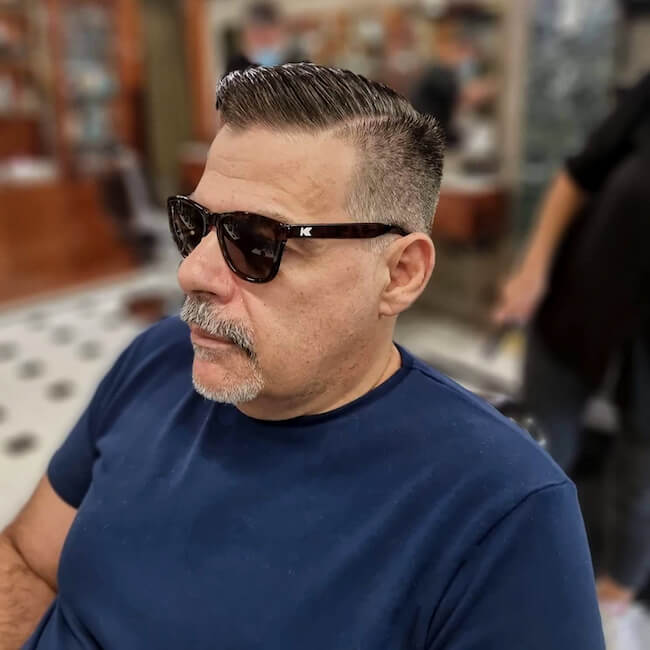 Men's Department services
Gents
Includes styling with professional products.
Includes washing before and after the haircut.
Includes relaxing shampoo with professional products for every hair type.
Care
Lasting 4 months (straightening / smoothing / moisturizing treatment).
Super hot: covering white hair with a natural effect
Expert coverage and make-up of white hair with a natural effect from the best men's barber company, Beardburys for a month!
Includes painless face and body waxing, with special moisturizing products.
Specialized treatments for scalp problems - dry skin, hair loss, treatment after chemotherapy.
It includes treatments after a professional diagnosis for dry skin, hair loss, and oiliness, with leading companies in haircare.
Traditional falsetto shave
Includes skin preparation with professional products, hot and cold towels, spa and relaxation.
Natural coverage of whites in the beard
Consultation - Hair Profile/Therapy online
Consult us for free about the health and beauty of your hair.